The "Change" in Your Pocket – The GoodWorld Virtual Wallet
Project Brief: Our client, GoodWorld, developed technology that allows users to donate to their favorite charities and nonproifts with a simple Facebook post or Tweet using the hashtag '#donate'. We were tasked with creating a virtual wallet that would allow GoodWorld users to store credits for future use and facilitate a growing user base. In a 2.5 week sprint, I focused on research and initial designs, and managed stakeholder relations. As project manager, it was my job to ensure that my team executed in a timely manner.
Methodologies: Agile Workflow, Design Studio, SCRUM Framework, Stakeholder Interviews, Usability Testing, User Interviews, Wireframing
Tools: Axure, Google Forms, Keynote, Sharpies, Sketch 3
Project Team: Michael Franco, Thao Pham, Sherene Rance
WHAT IS A VIRTUAL WALLET, EXACTLY?
The above was the main question my team had to answer for this project.
After the initial kickoff with our client, it was apparent our client didn't really know how a virtual wallet should look like either. It was our job to show them. Due to the ambiguous nature of the product, I immediately created and shared a project calendar to ensure we hit out goals over the 2.5 week sprint.
To successfully design a virtual wallet, we had to understand:
How do people approach donations?
How do people spend their money?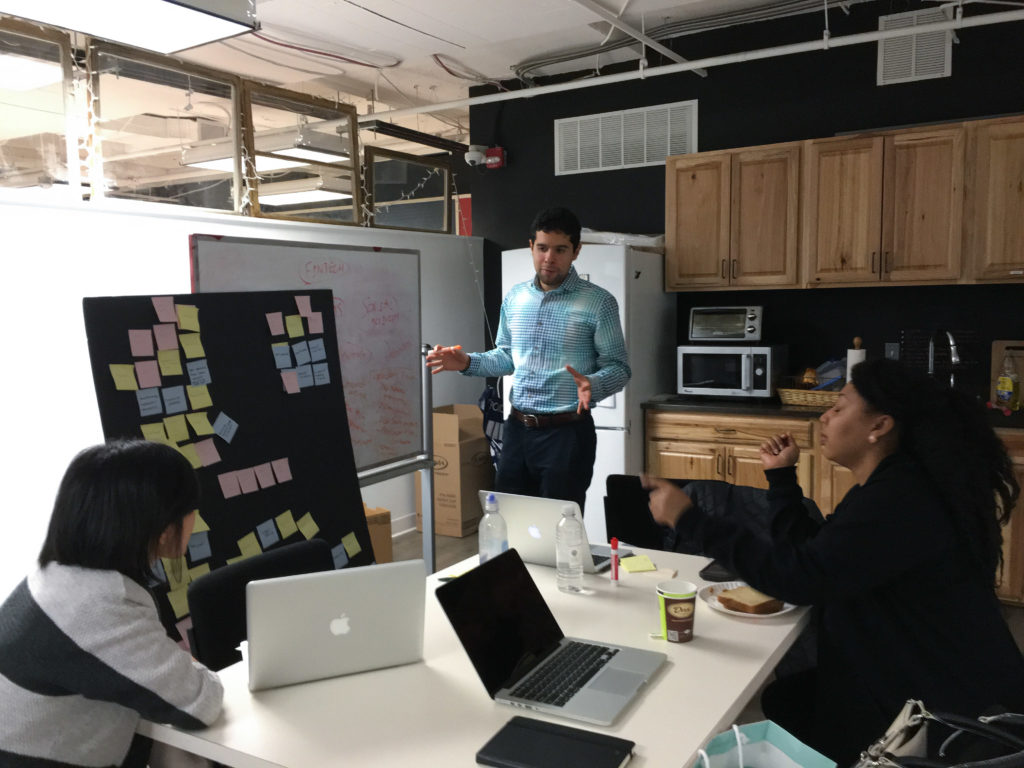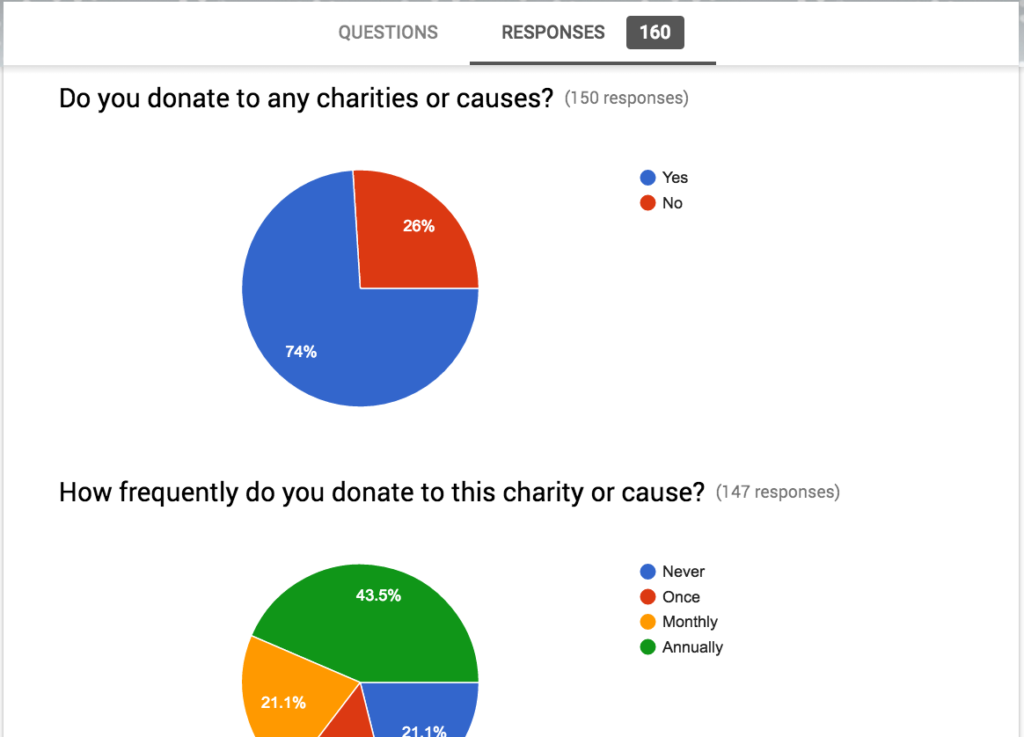 DO YOU DONATE?
To explore how people approach donations, we created a brief survey.
Some of the most important items we found were:
Most people don't share their donations. They feel it is a more private act.
Most people don't expect anything in return when they give. They "feel good" doing it and it promotes their intrinsic worth.
People were generally happy when they donated.
If people didn't donate to a cause they cared about, it was because they didn't feel like they had enough money.
SHOW ME THE MONEY
To explore people's spending behaviors, I proposed the following contextual behavioral interview:
I asked participants for their monthly salaries and in exchange, gave them this amount in Monopoly money. I then asked them to divide this money out into their monthly expenditures. What I found was that donating was not usually a part of a person's typical spending activity. There were two major reasons that were stated:
People felt like they didn't have enough at the end of the month to donate.
People felt like that they had to contribute a large amount (at least $100) to make a significant difference. And not only once, but consistently.
Participants who did donate each month stated they would only invite a friend to donate if their friend believed in the cause and would be a good fit for the charity, not for any personal monetary benefit.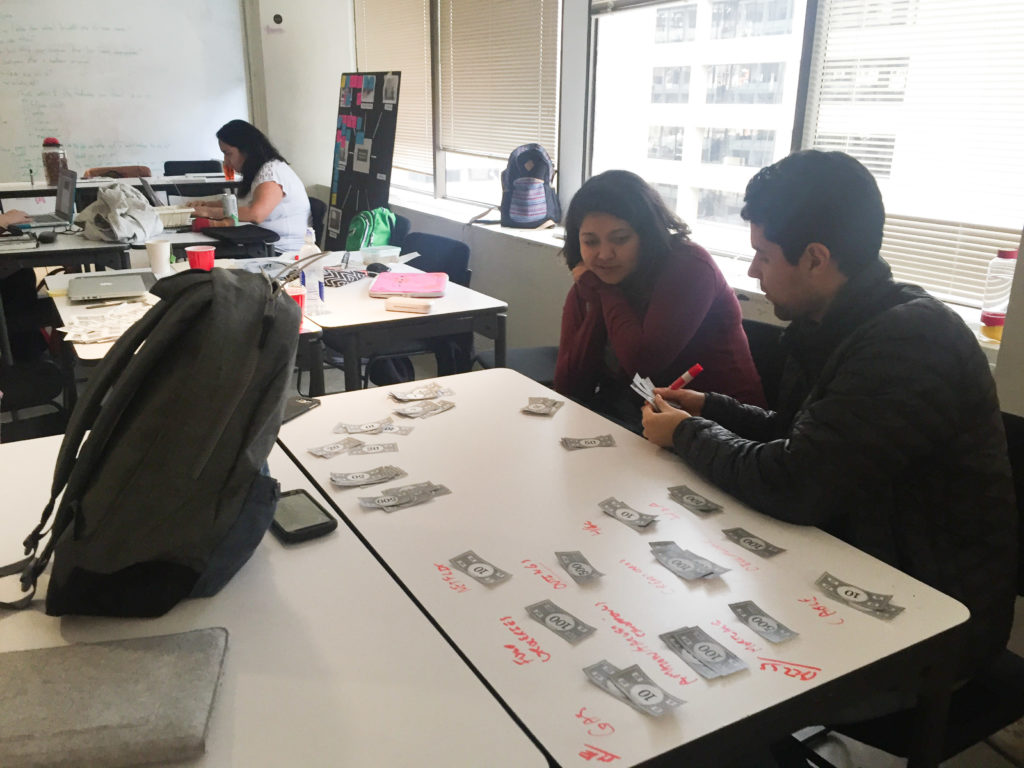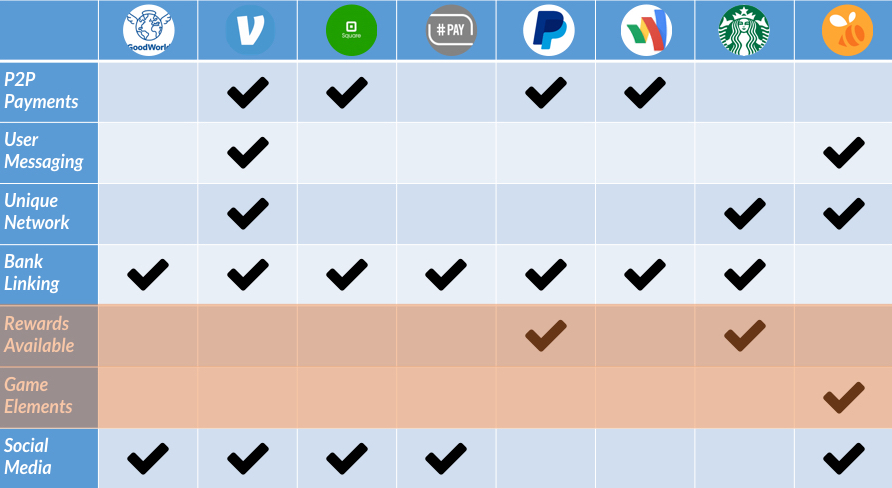 WHAT'S IN YOUR WALLET?
From our research above, we theorized people prefer to make small, spontaneous payments to causes they care about. This idea would be the core design angle in our original MVP.
With this idea in mind, we were interested in determining how other companies were solving for their virtual wallet problems. After an extensive competitive analysis across the financial technology landscape,  we saw we could bolster GoodWorld's virtual wallet in the market through a focus on gamification elements.
DRAFTING GOODWORLD'S WALLET STORY
We held several design studio sessions to develop a foundation for our wallet design. We determined elements of our MVP needed to include:
Visualization of Concepts – Users were receptive to seeing their information in very visual ways
Sharing Options – Users had to be able to engage their friends easily
Suggested Contacts – Users had to quickly find their most relevant friends to share information
User Profiles – Information that could be shared publicly within the GoodWorld network
Content Strategy – Intentional text and images to create that 'warm fuzzy feeling' of donating
Balance Screen – How many credits a user had available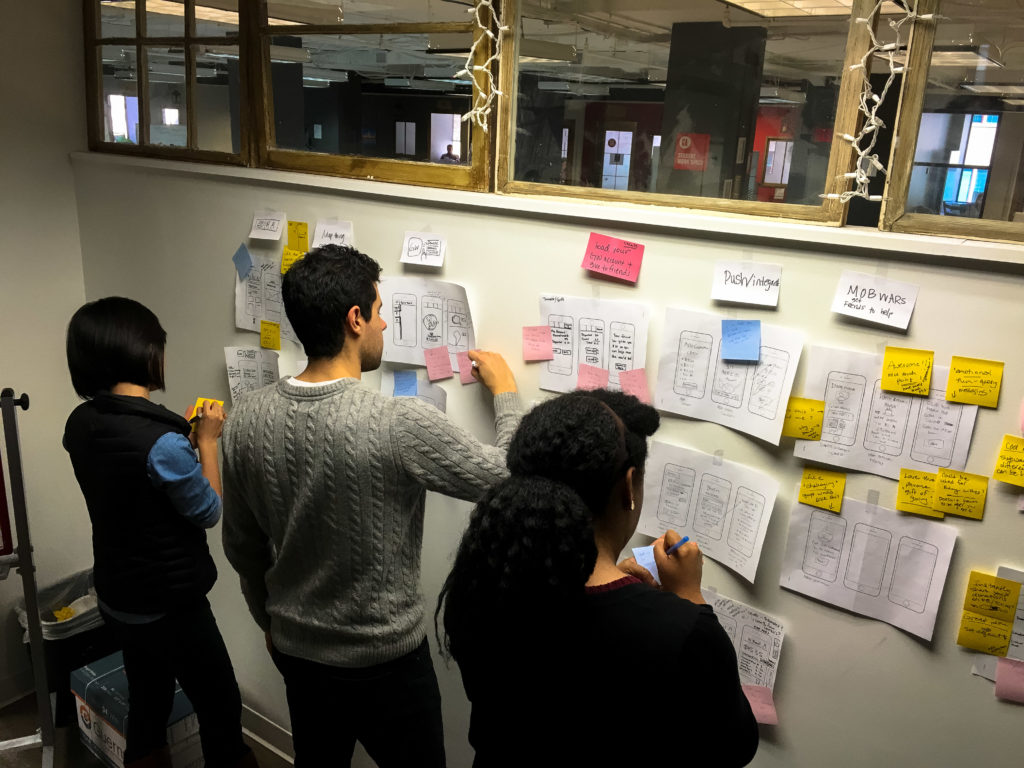 CHANGE COURSE! (THE MAJOR DESIGN DETOUR)
At this time we knew were at a fork in the road. We either had to continue developing this as a mobile app or keep it as web app within the GoodWorld environment. After discussions with stakeholders, it became evident we needed a major design change. The wallet wasn't supposed to be a separate product, but rather a feature of existing technologies.

It was determined that the current dashboard, which every new user had to pass through, was the best place for the wallet to live.
NEW CONSTRAINTS. NEW DESIGNS. ONLY 3 DAYS LEFT.
By changing the location of this wallet to the current dashboard, several new constraints were now created. We had to work with what already existed in the dashboard, while at the same time allowing users to still be able to access this information, and not impose on the #donate technology that drives all of GoodWorld. Our new focus was this:
Empowering users to share donation activity and engage with the community.
I developed the initial prototype, from which my team continued to refine, test and validate as I prepared for our client presentation. The core elements of the prototype included:
The wallet: Transformed from being a basic catalog of financial information to being the home for any new notifications, as well as a benchmark for a user's activity within GoodWorld.
Community: Transformed from being just a list of friends, to a pulse on how your friends were interacting with GoodWorld.
Badges: Transformed from being a community game element, to becoming an individual performance standard.
The final prototype provided value to the user by providing an easy way to view existing credit and standing in their GoodWorld community, thereby incentivizing them to invite friends and continue giving to their causes, while also promoting the use of #donate.
VIEW THE FINAL PROTOTYPE BELOW
FUTURE CONSIDERATIONS
Need for a Native App
Although the design for this virtual wallet was a feature of the GoodWorld dashboard, I believe there will be a need for a native application. If the user base continues to grow, the wallet will become the central hub for GoodWorld activity.
Donation Goal Setting
With more time, we would like to explore the idea of donation goal setting. For example, a user may want to donate $100 to UNICEF by the end of the month. He or she can either keep this as a private goal, or share it with his or her friends to get them to contribute. The latter would help in promoting the use of the GoodWorld Wallet.