The ThinkGeek Marketplace – Where Geeks Gather To Trade
Project Brief: ThinkGeek is seeking to expand their retail e-commerce business by creating a marketplace within its site that allows its regularly engaged customers to sell their own fan-based loyalty products. Over a two week sprint, I researched and designed a marketplace that would promote a user's individual products within the ThinkGeek site, while preserving the integrity of the ThinkGeek brand.
Methodologies: Card Sorting, Competitive Analysis, Rapid Prototyping,Usability Testing, User Interviews, Wireframing
Project Team: Individual Project
HOME OF THE GEEK
ThinkGeek benefits from it's competitors in that it has a niche audience: geeks.
Along with a unique product line, ThinkGeek is well positioned to create a user-based marketplace within their site. Users can find a receptive audience for their fan-based products in a marketplace that would otherwise be difficult to promote their individual products and brand.
I knew that the introduction of a marketplace on the ThinkGeek website had to be subtle, as to not alienate existing users. Any new changes would be only to direct sellers in selling items, and to direct buyers in buying those items.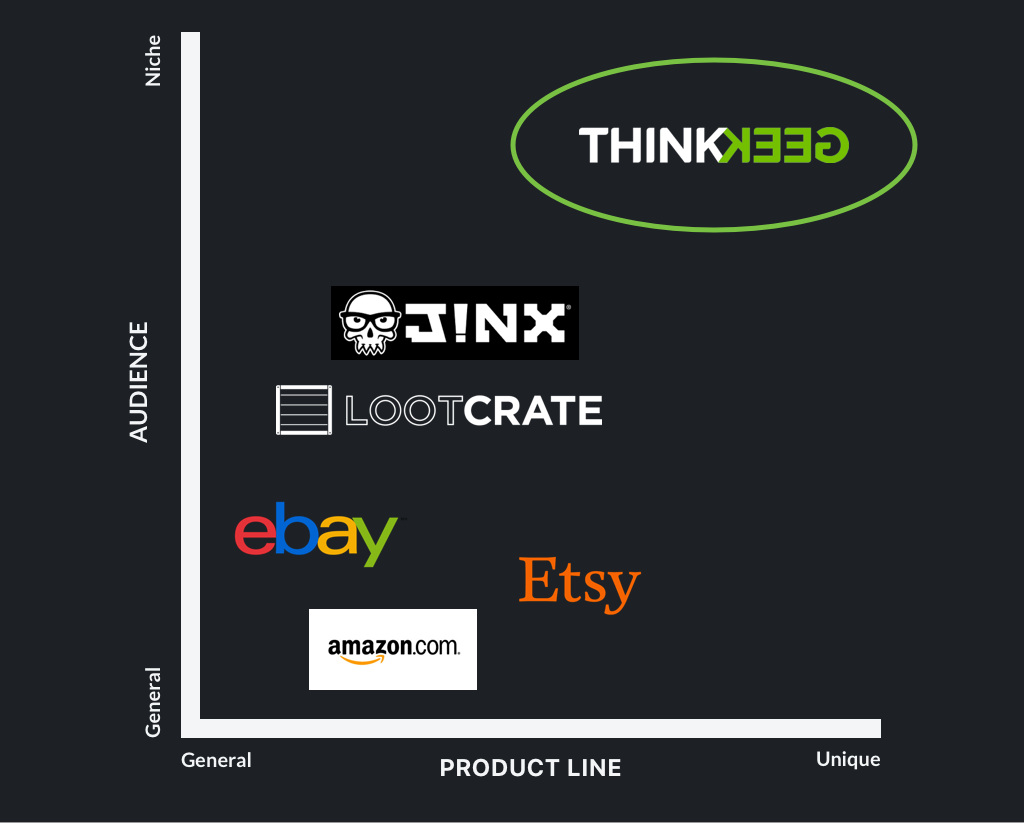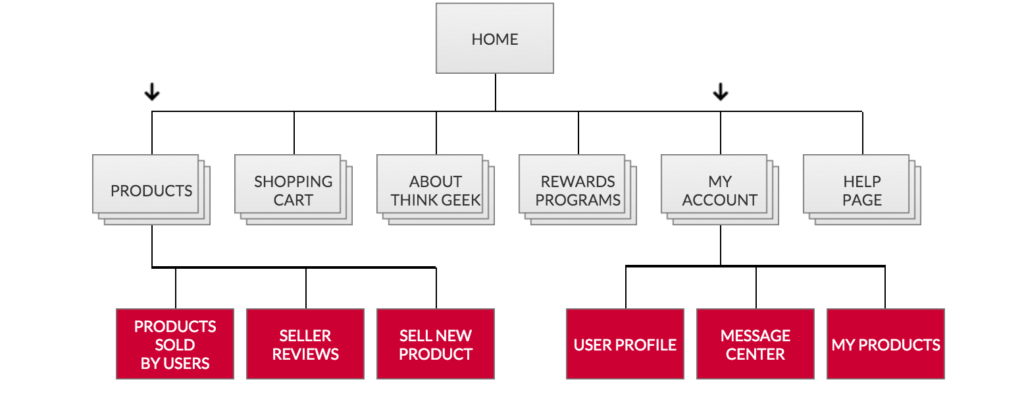 FOLLOWING THE USER ACROSS SPACE-TIME
There were two different types of users I had to design for:  buyers and sellers. Each one would follow a different, yet related user journey. Sellers were looking for how to sell their items on the site, and should be able to manage what they sold. Buyers were looking for new and unique items, but needed a way to trust buying from other users. As a result of these needs, I knew the following pages needed to be added to the ThinkGeek site infrastructure:
User profile page
Sell a new product page
Review page
Message module
Product management page (sellers only)
THINKGEEKS AREN'T BUSINESSPEOPLE
I performed several user interviews to better understand a typical user's experience on existing marketplaces such as Etsy, Amazon, and eBay.
Buyers needed:
Information regarding the delivery of the product
Quality information (i.e. photos and condition) available for product
Knowing information about the seller
Sellers needed:
To know when buyers had questions regarding their items
Easy accessibility to a seller page
Appropriate onboarding for first-time sellers
These considerations helped me determine particular pain points experienced by users in current marketplaces that I could address in my design.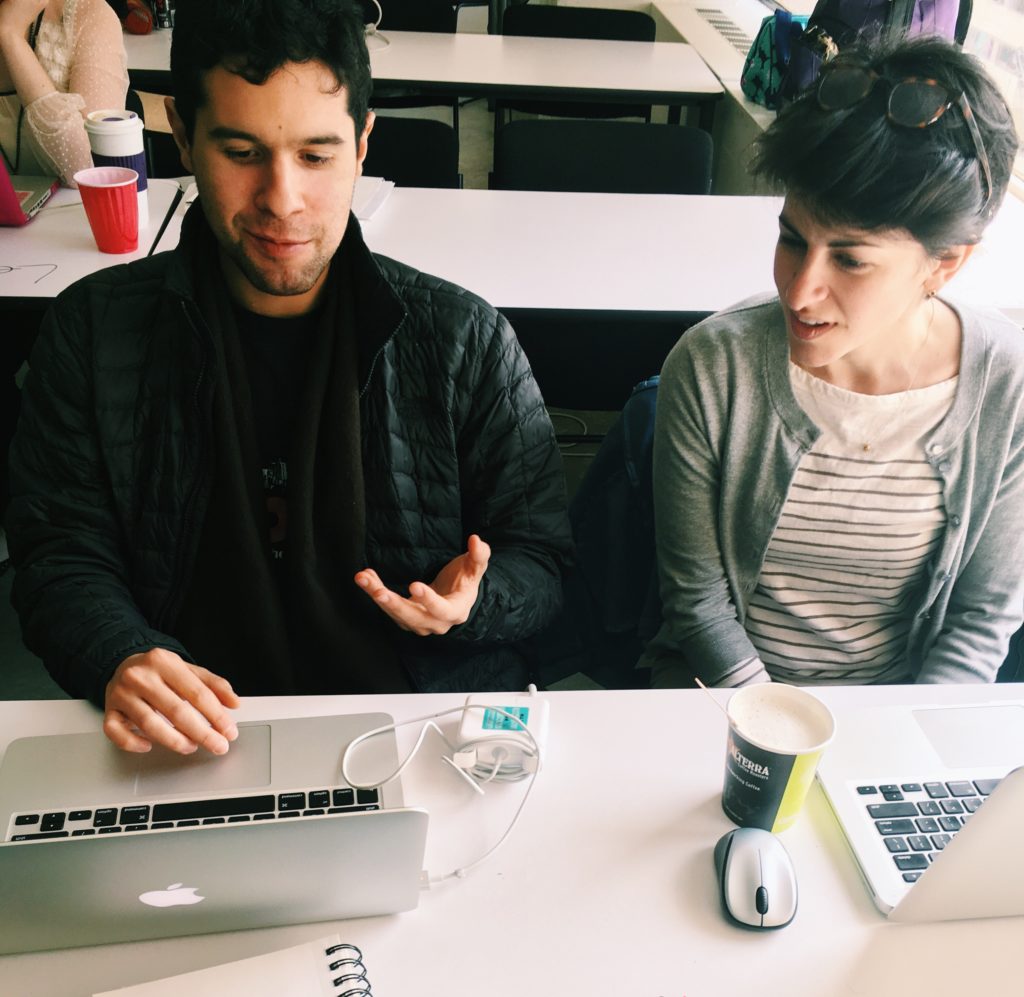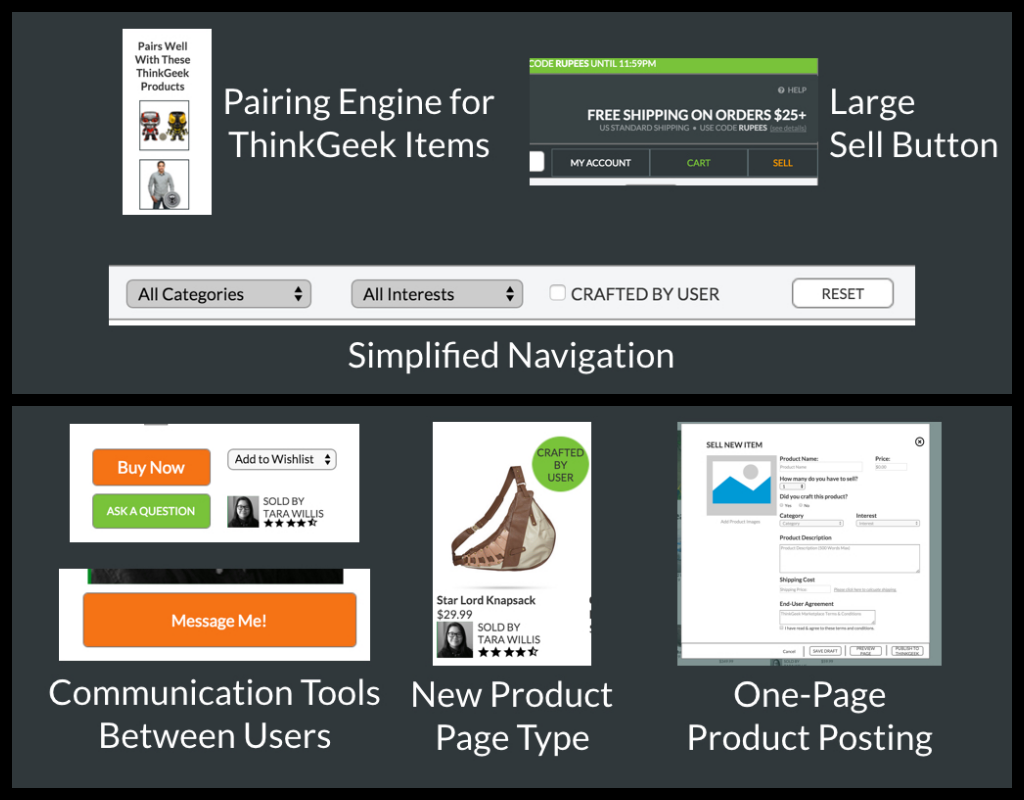 THINKGEEK'S GUIDE TO THE (SEARCH) GALAXY
The site's navigation was redesigned to be super simple to not only make searching for products easier, but to also highlight those products made by users.
Further, a pairing engine for ThinkGeek Items was included on product pages so that ThinkGeek items could be purchased alongside user-produced items, thereby incorporating the existing ecosystem of products.
User profiles were made to include basic information such as user photos, bios, and existing reviews to get more of a background on the user.
For sellers, it had to be clear how to sell items on the ThinkGeek site. I created a very large SELL button in the site's navbar menu to make this process visible. I also made sure that the selling dialog to list an item was kept succinct and simple, making it approachable for geeks who may not have the business acumen starting off.
THE FORCE IS STRONG WITH THESE USERS
The above changes were well received in user testing, however further modifications had to be made:
People wanted a better indication of seller trustworthiness – This involved adding a more robust review system, as well as a link to reporting any inappropriate behavior.
People had a hard time visually identifying which projects were made by users – This involved adding a 'Crafted by User' label to each product, making it easy to differentiate user-based products from ThinkGeek original products.
People wanted to find users that were valuable to their interests – This involved giving users the ability to follow other users on the site.
FUTURE CONSIDERATIONS
New Product Line Opportunities
ThinkGeek can keep track of what's selling in the user marketplace, paving the way for new product lines on the official ThinkGeek site.
User Profile Development
As users become familiar with the new user marketplace, there may be a need for more advanced messaging systems, and features such as sharing product wishlists and tools to facilitate local meetups.